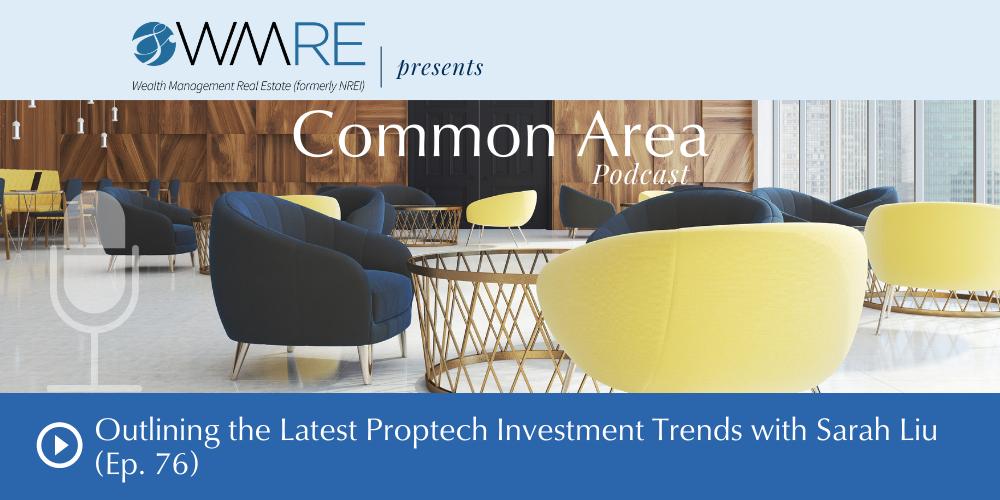 WMRE Common Area: Outlining the Latest Proptech Investment Trends with Sarah Liu (Ep. 76)
WMRE Common Area: Outlining the Latest Proptech Investment Trends with Sarah Liu (Ep. 76)
Podcast: Play in new window | Download | Embed
Subscribe: Google Podcasts | Spotify | Stitcher | TuneIn | RSS | More
Commercial real estate has been a notorious laggard when it comes to adopting technology. But a surge of investment in proptech in recent years is helping to transform many business practices within the space. 
Fifth Wall is a major venture capital firm focused on the global real estate industry and property technology for the built world. With the backing of institutional partners within the sector it has helped fund dozens of proptech startups. 
In this episode, David Bodamer is joined by Sarah Liu, a Partner of the Real Estate Technology Investment Team at Fifth Wall, to discuss what kinds of technology the industry is adopting..
Sarah discusses:
How Fifth Wall vets their proptech investments.

Which sectors and processes are seeing some of the biggest effects by adopting technology and automating processes.

How the pandemic helped accelerate some proptech adoption and how changes like work-from-home and hybrid work schedules have created new challenges to navigate. 

How Fifth Wall positions its funds to help incubate proptech startups.

And more
Connect WithSarah Liu:
Connect With David Bodamer:
About Our Guest:
Sarah Liu is a Partner on the Real Estate Technology Investment team at Fifth Wall, where she focuses on early stage investing in the construction, fintech, insurtech, and residential sectors.
Prior to joining Fifth Wall, Sarah worked at McKinsey in San Francisco. Her work there spanned FIG, TMT, and retail and included private equity due diligence, M&A strategy, and corporate transformations.