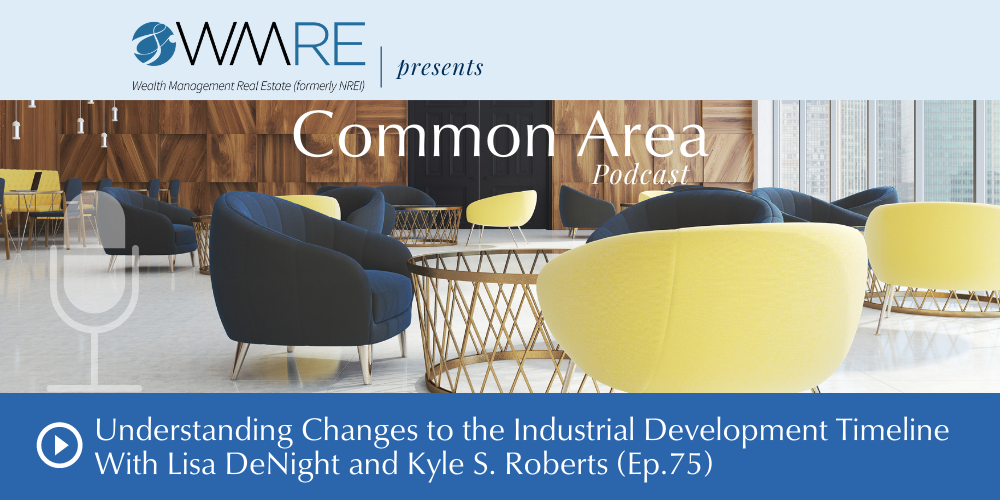 WMRE Common Area: Understanding Changes to the Industrial Development Timeline With Lisa DeNight and Kyle S. Roberts (Ep.75)
Podcast: Play in new window | Download | Embed
Subscribe: Google Podcasts | Spotify | Stitcher | TuneIn | RSS | More
Due to intense competition, supply chain and labor challenges, the time it takes to build new logistics real estate properties across the country has lengthened. This is coming at a time when the national industrial vacancy rate is already at historic lows. 
In this episode, David Bodamer is joined by Newmark's Lisa DeNight, National Industrial Research Director, and Kyle S. Roberts, Executive Managing Director Industrial/Capital Markets, to break down the state of the industrial real estate market.
Lisa and Kyle discuss:
Resources:
Connect With Lisa DeNight:
Connect With Kyle S. Roberts:
Connect With David Bodamer:
About Our Guests:
Lisa DeNight serves as National Industrial Research Director at Newmark, where she researches and analyzes national industrial trends and commercial market implications, focusing on timely thought leadership and elevating data integrity. Lisa's expertise is in statistical data collection and analysis, interpretation and advisement on economic and real estate trends, driving thought leadership initiatives and generating market insights. Her more than a decade of research experience is inclusive of all commercial property types.
Kyle Roberts, CCIM, SIOR, co-founded Newmark's Salt Lake City office (formerly Newmark Grubb ACRES, founded as NAI) in 1998 and currently serves as an executive managing director in the company's Salt Lake City, Utah, office. A 22-year industrial real estate veteran, Mr. Roberts is a market leader in the logistics, supply chain, development and capital markets segments of commercial real estate. He has been involved in more than 3,700 individual transactions, representing clients in the acquisition or disposition of over 75 million square feet in Utah and 11.5 million square feet nationally and internationally. Mr. Roberts' transactions have a cumulative value exceeding $3.1 billion and include many of the market's largest industrial and office capital markets transactions.